With a proven process focusing on results and iteration, AppZ maps out a seamless flow designed to streamline the onboarding process.
Check out how AppZ works its magic!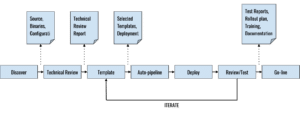 Figure 1. AppZ Onboarding Process
Discover:

During the discovery phase, AppZ engineers will collaborate alongside the current development and operations teams to meticulously extract, document, and catalog the various components and elements that constitute the applications in question.

Technical Review

:

The AppZ engineers will conduct a thorough Technical Review that delves into the inner workings of the current architecture. From analyzing the logical and physical aspects to assessing any hiccups encountered with the application roadmap, this team will leave no stone unturned. Armed with this information, they will then create a detailed Technical Review Report highlighting the architecture's strengths and weaknesses. This comprehensive report is a valuable tool for the team to make informed decisions moving forward.
Template Selection:

With the technical review complete, the engineers at AppZ will now apply their expertise to craft a new and highly efficient deployment model. Diligently scrutinizing each application component for configuration and resilience needs, the engineers will meticulously select the most suitable AppZ deployment template for each. All of this will culminate in the creation of a precise deployment manifest which will be documented and carefully recorded within the git repository. In this way, the AppZ platform will be able to seamlessly create an automatic pipeline, streamlining the entire deployment process with unparalleled efficacy.

Auto-pipeline:

The auto-pipeline is a game-changing feature on the AppZ platform. It takes the manifest from a git repository and creates a dynamic pipeline that builds a container image, Kubernetes manifest, configuration, and other necessary artifacts for a seamless and conformant Kubernetes deployment process. This step is a pivotal one that sets the AppZ platform apart from others. The entire process is transparent and logged through the AppZ Dashboard, which ensures a seamless experience from start to finish.

Deploy:

The automated pipeline process of the AppZ platform culminates in the deployment of the application workloads within the Kubernetes cluster as pods. The entire process is seamless, efficient, and follows Kubernetes' established standards. The AppZ platform liaises with the Kubernetes API server to ensure a fully automated and transparent process, making deployment a breeze.

Review/Test:

The AppZ team joins forces with development/operations to thoroughly check and assess the application that's been deployed on Kubernetes. Any problems detected are documented, monitored, and resolved by an iterative method. This cycle persists until the application deployment can fulfill all the functional and performance requirements specified by the application team. The AppZ team is responsible for running performance tests, while the application team handles functional testing.

Go-live

:

After thoroughly testing the application's functionality and performance, a well-crafted rollout plan will be put together by the AppZ team to ensure a smooth launch. The application's key players will then review and green-light the release plan. Rest assured, when approval is granted, the application will go live and be ready for use.
The AppZ platform's monitoring and alerting capabilities will undergo thorough testing during rollout. An in-depth walkthrough of the AppZ dashboard and its features will also be conducted. This will ensure the platform operates seamlessly, giving the application team a hassle-free experience.

As an integral component of our rollout process, the AppZ team will host interactive training sessions for both developers and members of the operations team. Complementing these sessions, comprehensive documentation and detailed SOPs will be crafted and disseminated amongst our application team. Moreover, we will establish a Slack/Teams channel (and/or WhatsApp group) to provide ongoing support.
In subsequent sessions, we will delve into the AppZ deployment architecture on Kubernetes, which plays a pivotal role in our Migration and Modernization strategy. Our implementation follows a plug-and-play approach, allowing customization of deployment workflow components to meet our client's unique needs.
The AppZ platform has been tailored to adopt the path of least resistance in order to facilitate the automation requirements of our clients without impeding on their existing investments. Our plug-and-play methodology is an indispensable factor in our onboarding process, as it ensures that the technologies already installed by our clients can be efficiently incorporated and integrated into the AppZ platform rather than being replaced.
Kubernetes deployments using AppZ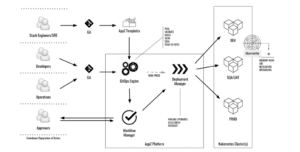 Figure 3.  AppZ deployment workflow in Kubernetes – The AppZ Platform and the AppZ Stacks enable automated container image creation for deployment in the Kubernetes cluster. Application teams without containerization knowledge can take application components and deploy and manage them in Kubernetes clusters to leverage k8s benefits such as improved resiliency, scalability, security, and a faster time-to-market.
LET'S GET STARTED
You can send us a query using the form below, and one of our solution experts will contact you within 24 hours.
When you sign up for this service, you will get a free audit and assessment of your current environment.