Thanksgiving Celebration Offer Is Here With A Few 2021 Twist – CloudControl 
A Time of Thanksgiving 
A Time of Reflection,
A Time for the Gifts of the Year, And 
A Moment to Cherish……
It is all about good times and the celebration of what we are all thankful for. 
The holiday continues now and let us know what are you truly thankful for, at this very moment? Perhaps, is that enough? No right?
Yes! It's true, on this Thanksgiving, let's take a moment to truly appreciate our valued clients, customers, partners, employees, and our community, without whom none of this would have been possible and we're so grateful for their support throughout the year.  
Moreover, acknowledging and being thankful is what our special day is dedicated to each year. So by sharing the spirit of "giving" this celebration we "Thank our CloudControl Team" with very relevant offers.
SURPRISE! SURPRISE! There Is, Even More, This Time from Cloudcontrol….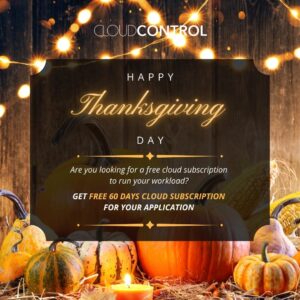 Are you looking for a free cloud subscription to run your workload? 
If So, Grab Now And Get FREE 60 Days Cloud Subscription For Your Application.
Migrate your workload and run on Cloud for 60 days!! Contact Us Now
Register Now: https://bit.ly/3wVOPh1
Last but not the least, let's celebrate this Thanksgiving with cheer and promise to be there for years to come.
We truly appreciate and look forward to serving you again.
Happy Thanksgiving, Everyone.
CLOUD CONTROL
AppZ – Lowtouch, Zero-Trust Cloud Migration & Management Platform