GITEX Global 2023 – Where Innovation Thrives
In the ever-evolving landscape of technology, where innovation is vital, GITEX Technology Week shines as a beacon of progress and fresh ideas. Year after year, this event has become the epicenter where tech enthusiasts, industry titans, and companies from across the globe converge to discuss the latest digital advancements. GITEX, short for Gulf Information Technology Exhibition, is an annual tech extravaganza held in Dubai, United Arab Emirates. Since its inception in 1981, GITEX has transformed into one of the world's most pivotal technology trade shows, providing a platform for companies, startups, and tech enthusiasts to showcase their products and services. Dubai's commitment to collaboration is evident through events like GITEX 2023, where many stakeholders worldwide exchange knowledge, foster innovation, and forge meaningful partnerships. GITEX 2023 is poised to be a game-changer, steering the course of technological events and influencing the trajectory of the tech industry, especially in the wake of the global pandemic.
Advanced Cloud Technologies Expertise: Pioneering the Future of Cloud Transformation
At the forefront of cloud transformation, Cloud Control Solutions (CCS) is set to impact GITEX GLOBAL 2023 significantly. Renowned for pioneering low-touch cloud and Kubernetes solutions, CCS has carved a niche in cloud technology due to its unique products, services, and client-centric approach. At GITEX 2023, CCS will unveil AppZ, a revolutionary solution meticulously crafted with a Kubernetes-first approach.
AppZ is set to revolutionize the landscape of modernization, migration, and management of applications in Hybrid Cloud environments.
Cutting-edge Solutions in Cloud Migration and Management: Shaping Tomorrow's Cloud Landscape
CCS is renowned for its ability to generate fresh and innovative ideas in Cloud Automation and Management, leveraging cutting-edge technologies and solutions. The company's remarkable contributions to diverse industries, such as FinTech, EdTech, Insurance, Automotive, Healthcare, Manufacturing, and more, have consistently left a lasting impression.
When you explore CCS firsthand, you can expect the following:
Innovative Product Showcases: GITEX has always been a hub for the latest technological innovations, and CCS is no exception. Attendees can witness various products and solutions with the potential to revolutionize application migration, modernization, and management in multi-cloud environments.
Thought Leadership: CCS has always been at the forefront of industry developments and thought leadership. Expect enlightening lectures and presentations from Cloud Control's experts, providing valuable insights into the future of cloud migration technologies.
Networking Opportunities: GITEX is a hotspot for networking, and CCS is gearing up to be part of interactive seminars and networking events. This will provide attendees and CCS with a platform to connect with industry leaders, potential collaborators, and like-minded individuals. Get ready for an insightful and enriching experience courtesy of CCS's presence at GITEX 2023.
Discover the Future of Kubernetes Infrastructure in the Cloud Environment at GITEX Technology Week 2023
If you have a passion for technology and innovation, GITEX Technology Week 2023 is an event you simply cannot afford to miss. With diverse exhibits and many participating companies, GITEX guarantees an enriching experience for all attendees.
Discover Tomorrow: Your Gateway to Innovation at CCS's Exclusive Exhibit
Participating in CCS's exhibit delivers a unique chance to:
Witness Innovative Solutions: Immerse yourself in CCS's innovative solutions and engage with the expert team. CCS will be located in Hall 26, Stand C50-05, at the Dubai World Trade Center, showcasing our low-touch cloud modernization, migration, and management solutions.
Experience Transformation: CCS specializes in efficiently transforming mission-critical applications, enhancing their resiliency, agility, security, and observability. We enable seamless migration across environments, improving application availability and facilitating hybrid/multi-cloud portability. With decades of expertise in cloud, containers, and Kubernetes technologies, CCS has effectively modernized and migrated numerous applications to diverse cloud environments. Trust our experience to transform your applications seamlessly for optimal performance and efficiency.
Meet the Experts: Meet the Cloud Control team in person from October 16 to 20, 2023. Cloud Control team, including Mr. Rejith Krishnan (Founder & CEO), Mr. Rajagopal Nair (COO & Head of Business Development), and Dr. Anil Kumar (VP of Engineering), will be available for one-on-one engagements and discussions. These interactions are invaluable opportunities to gain insights into how the strength of Cloud Control and AppZ can accelerate your journey to the cloud.
Innovative Cloud Products: Redefining Possibilities in Cloud Migration, Modernization and Management
At GITEX 2023, CCS is set to showcase a range of unique products designed to transform your cloud experience:
AppZ: The Low-Touch Cloud Migration, Modernization, and Management Platform: AppZ is a game-changer, offering seamless cloud modernization, migration, and management with a Kubernetes-first approach. It empowers clients with Zero Trust Security, 5X Cloud Adoption Speed, and a 30% Lower TCO.
Cloud Migration Factory: Your gateway to swift and efficient cloud migration.
PostgreSQL/MongoDB HA: Ensuring high availability for your vital databases.
Centralized Log Management: Streamline your log management with a unified solution.
Platform Engineering Solution: A comprehensive platform featuring CI/CD, observability, Git Integration, and more, designed for accelerated greenfield application development and deployment.
Strategic Cloud Services: Elevating Businesses Through Expert Cloud Solutions
CCS offers a suite of services designed to cater to your specific needs:
Consulting: Detailed analysis of your current application architecture, infrastructure status, and deployment model.
Migration/Modernization: Accelerate your application onboarding process with Containers & Kubernetes.
Support: Dedicated expertise to manage day-to-day operations.
Signature SRE-as-a-Service: Extensive support with exceptional observability and alert management.
Elevate Your Technological Horizons with Our Expertise in DevOps, Docker, Kubernetes, SRE, and More
In conclusion, GITEX GLOBAL 2023 is not just an event; it's a pivotal moment in the technological timeline. It's a convergence of innovation, collaboration, and transformative ideas. With its pioneering spirit and innovative solutions, Cloud Control Solutions epitomizes the essence of GITEX. For attendees, it's not just a chance to witness cutting-edge technology; it's an opportunity to be part of the future, to connect, learn, and innovate.
So, mark your calendars and make your way to GITEX GLOBAL 2023.
Experience the future today!
Visit CCS at Hall 26, Stand C50-05, GITEX DUBAI, 2023, and join the revolution shaping the digital world.
Connect with Us
For more information, visit us: Website | LinkedIn | Email
Mobile: +91 9946356641 | +971505582606 | +1 617 6574468.
5X FASTER, 30% LOWER TCO, ZERO TRUST SECURITY
Experience how Cloud Control Solutions can facilitate scalability, innovation, and success.
Embark on your Cloud Adventure! Click here to register.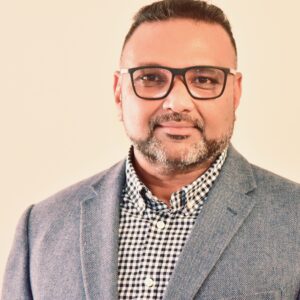 Rejith Krishnan is the co-founder and CEO of CloudControl, a startup that provides SRE-as-a-Service. He's also a thought leader and Kubernetes evangelist who loves to code in Python. When he's not working or spending time with his two boys, Rejith enjoys hiking in the New England outdoors, biking, kayaking, and playing tennis.