Unlocking Cloud Excellence at GITEX Global 2023
Welcome to the future of cloud transformation! Join us at GITEX Global 2023 in Dubai, where Cloud Control Solutions (CCS) is poised to redefine excellence in cloud adoption. We are excited to invite you to explore our innovative solutions, engage with our expert team, and discover how CCS can empower your business to thrive in the digital era.
About GITEX Global 2023
GITEX Global is one of the world's largest and most inclusive tech and startup events. The event brings together over 100,000 global business connections and features participation from six vibrant tech communities. It is an excellent platform for tech executives, startups, youth innovators, and tech companies to foster meaningful connections, facilitate communication, and establish valuable networks. With an impressive lineup of over 6000 exhibitors, 1,800 startups, and 1,400 speakers representing 170+ countries, GITEX Global is the premier destination where innovation seamlessly intersects with opportunity.
Meet Cloud Control Solutions (CCS)
At CCS, we've been a part of GITEX since 2021; this year is no exception. We invite you to experience "Cloud Excellence" with us at booth H26-C50-05, Dubai World Trade Center, from 16th to 20th October.
Our Expertise, Your Advantage
Our platform engineering solution, AppZ, is an innovative solution designed to revolutionize the MODERNIZATION, MIGRATION, AND MANAGEMENT OF APPLICATIONS IN HYBRID CLOUD ENVIRONMENT. With a KUBERNETES-FIRST APPROACH and extensive expertise in leading domains like FinTech, EdTech, Insurance, Automotive, Healthcare, and Manufacturing, our primary focus is ensuring security, compliance, observability, and optimized cloud spending to drive your business toward success.
Meet Us at GITEX Global 2023

Our Expertise, Your Advantage
We specialize in efficiently transforming mission-critical applications, enhancing their resiliency, agility, security, and observability. We enable seamless migration across environments by utilizing prefabricated cloud adoption templates, improving application availability, and facilitating hybrid/multi-cloud portability. With decades of expertise in cloud, containers, and Kubernetes technologies, our dedicated teams have effectively modernized and migrated numerous applications to diverse cloud environments. Trust in our experience to seamlessly transform your applications for optimal performance and efficiency.
Why Choose CCS?
Cloud Control Solutions Inc. is a boutique cloud transformation company founded in 2019 in the USA. We are dedicated to designing and building next-generation cloud platforms, complete with low-touch SRE services, that help businesses realize the full potential of the cloud. Our methodology has enabled clients to reach up to 5x faster cloud adoption speeds while reducing TCO by 40%. Pioneering low-touch cloud and Kubernetes solutions, Cloud Control is at the forefront of cloud transformation.
Connect with Us
We look forward to your visit to our booth H26-C50-05 at GITEX Global 2023 as we collaborate towards a brighter future. Our team of developers, stack builders, architects, and entrepreneurs will be available to discuss your next cloud adoption project.
5X FASTER, 30% LOWER TCO, ZERO TRUST SECURITY
Experience how Cloud Control Solutions can facilitate scalability, innovation, and success.
Ready to Dive into Innovation with Cloud Control? Let's connect and explore possibilities together. Click here to schedule a meeting with us. Let's turn ideas into reality!
Glimpse Of Cloud Control At GITEX Global
Experience Cloud Innovation: Your Gateway to Tomorrow's Technology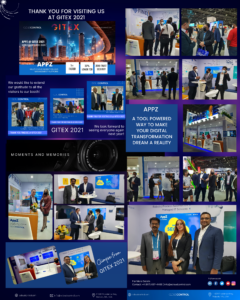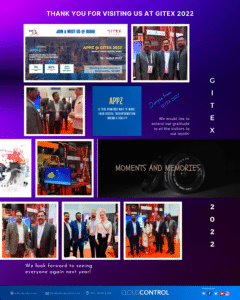 Cloud Control Solutions has been a proud participant at Dubai's prestigious GITEX Global for the past two years, representing our strength and expertise in Cloud Technology. Committed to our mission, we deliver dependable and practical cloud migration solutions tailored for businesses of all sizes. Engaging and discussing innovative ideas and business growth using digital innovation with global entrepreneurs, visitors, and investors from diverse fields and countries was a great opportunity. We are overwhelmed with the response and visits we have gotten through the event. We will gladly see you at GITEX Global 2023 if you missed a chance to meet us. Let's meet again!