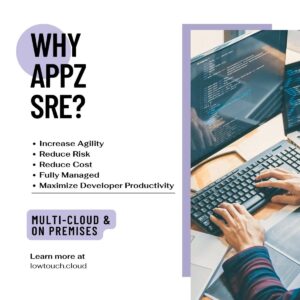 CLOUD CONTROL SOLUTIONS' SIGNATURE APPZ SRE PROVIDES CLOUD MIGRATION AND MODERNIZATION WITH REDUCED CLOUD TCO.
Empowering your business with future-proof resilience elevating productivity, team collaboration, business agility, reliability and scalability.
WHAT IS APPZ SRE?
AppZ Lowtouch Cloud, a unique product from CloudControl Solutions, simplifies cloud migration, modernization and management. AppZ SRE allows digital transformation that is low-touch, low-cost, and quick. You may swiftly shift to the Cloud using our unique cloud adoption templates known as AppZ-Stacks. In addition, AppZ can manage several clusters across multiple settings or cloud providers with a single installation. For application modernisation and cloud migrations, AppZ suggests a Kubernetes First strategy.
AppZ Stacks are chosen and hardened sets of popular application templates that will enable containerization for Kubernetes deployment for increased scalability, robustness, and resilience. These templates have been scanned, tested, and are secure to use. As a result, clients can benefit from 100% automated, zero-to-low-touch maintenance, saving them 50-70% on cloud adoption costs and 30% on cloud TCO. Furthermore, businesses can go live in hours, days, or weeks rather than months or years.
APPZ SRE provides managed support and services for application modernization, migration and management in hybrid cloud environments to enterprises. Companies can choose from basic to enterprise-level SRE services, including DevOps, CloudOps, observability stacks, monitoring, alerts/incidents management, patching, upgrading, performance monitoring, optimization, cloud bill review, and optimization, and more. AppZ SRE guarantees that applications and environments always stay stable, reliable and scalable, resulting in trouble-free operations.
WHY APPZ SRE?
Our SRE-as-a-Service on Kubernetes might be the solution for unlocking your company's complete potential. Below are some aspects of OUR APPZ SRE.
Proven tools and processes to ensure your cloud spending is efficient 

Hassle-free management of your cloud using our signature service 

Improve developer productivity by having them focus 100% on new features 

Ready-to-use templates for all your cloud workloads & use cases 

Migrate applications using lift-and-shift and refactoring approaches 

Risk-mitigated configuration and policies 

Hardened VM and container images 

Implements the right security posture at the infrastructure and applications levels 

Achieve high availability & disaster recovery 

Enterprise-grade controls and governance Compliance reporting with auditability and visibility
WHAT FEATURES DOES APPZ HAVE?
AppZ poses the following features.
AppZ is a Lowtouch cloud platform.

Cloud Automation platform for VM-to-VM & VM-to-Kubernetes migrations.
Upstream Kubernetes.
Cloud-native services.
AppZ Stacks – Multi-cloud accelerators.

Curated templates for popular application stacks.
Risk-mitigated configurations.
Pre-tested, hardened, ready-to-use.
AppZ helps optimize cloud resource utilization.

Leverages Cloud native resource optimization techniques.
Lowtouch migration and cloud operations.
Repeatable automated process.
AppZ helps achieve sophistication in cloud adoption.

Infrastructure-as-Code
Configuration-as-Code,
Policy-as-Code.
WHAT WILL DRIVE CUSTOMERS TO GO CRAZY FOR APPZ?
AppZ's low-touch cloud platform can help you to solve your cloud migration and management challenges with the following benefits.

Increasing Agility:
AppZ leverages GitOps to deploy applications/microservices to VMs or containers in minutes, allowing for quicker time to market.
Reduce  Risk:
AppZ stacks are hardened images with enterprise-level norms, controls, and zero-trust access.
Reduce Cost:
AppZ is a low-touch platform that completely automates the CI/CD pipeline (builds and deployments) and post-deployment operations.
Resilient Operations:


AppZ-managed applications in Kubernetes clusters are set to auto-scale depending on demand, auto-upgrade, and self-healing in case of a problem. AppZ can guarantee five nines (99.999) availability based on customer requirements.



HOW CAN APPZ BENEFIT BUSINESS?
Landing zones
Set up automated landing zones with built-in security and best practices. Complete setup in hours/days, not weeks, and supports both hybrid and multi-cloud setups.
Accelerating migrations


Tool enabled for VM-to-VM migrations or VM-to-Kubernetes migrations. AppZ has curated and pre-configured applications that will save you up to 70% on migration costs.

Cloud Native deployments


Greenfield application deployments to Kubernetes based on GitOps with built-in auditability, compliance, IaC, observability, and approval procedures.

LowTouch cloud operations
Build, deployment, and operations are all fully automated. The platforms also have built-in observability and alerts, and we provide SRE AS A SERVICE based APPZ Solution to customers.
Cost optimization
Reduce your cloud bills, optimize your cloud environments, and save 30% on TCO using AppZ.
HOW MUCH CAN COST-SAVING APPZ BRING TO CUSTOMERS?
AppZ, CLOUD CONTROL's Lowtouch cloud migration and management platform can aid you in attaining 5x Faster Cloud Adoption, 30% Lower Cloud TCO, and Zero-Trust Security in your cloud integration.
WHAT IS THE TIME TO MARKET COMPARED TO MANUAL WORK BY USING APPZ?
Time to market is the period between the invention of a product and its release to the market. In other words, it is the period between the beginning of work and the first sale. Time to market is a critical product development KPI or statistic since research has shown that new market entrants have a distinct advantage in market share, revenue, and sales growth. In addition, being the first to market is critical to many product development strategies. Therefore, developing a product with a short time to market is frequently optimal. 
When we analyze cloud migrations and operations today, we see that most businesses use a people-based strategy, meaning that people perform all migration operations. In this case, there are some concerns;
Those who can run operations are few in the market.

The second concern is security since cloud operations are consistent and may pose a significant risk to most organizations.

Many are already using cloud migration strategies, which implies it will be a recurring task that will cost more. This must be considered to bring in integrity.
Taking these challenges into account, we developed a platform and related templates that businesses can reuse. These templates are proven, and multiple people using them numerous times ensures that the total cost ownership of both migration and post-migration management will be minimal, resulting in a 30% reduction across all implementations.